High Vis Full Zip Day Fleecy Hoodie

All workdepot products

- are available with custom prints

- are available with express delivery

Stock Availability

In Stock

Prints

screen print: 25+

embroidery: 10+

full colour print: 12+

black print: 12+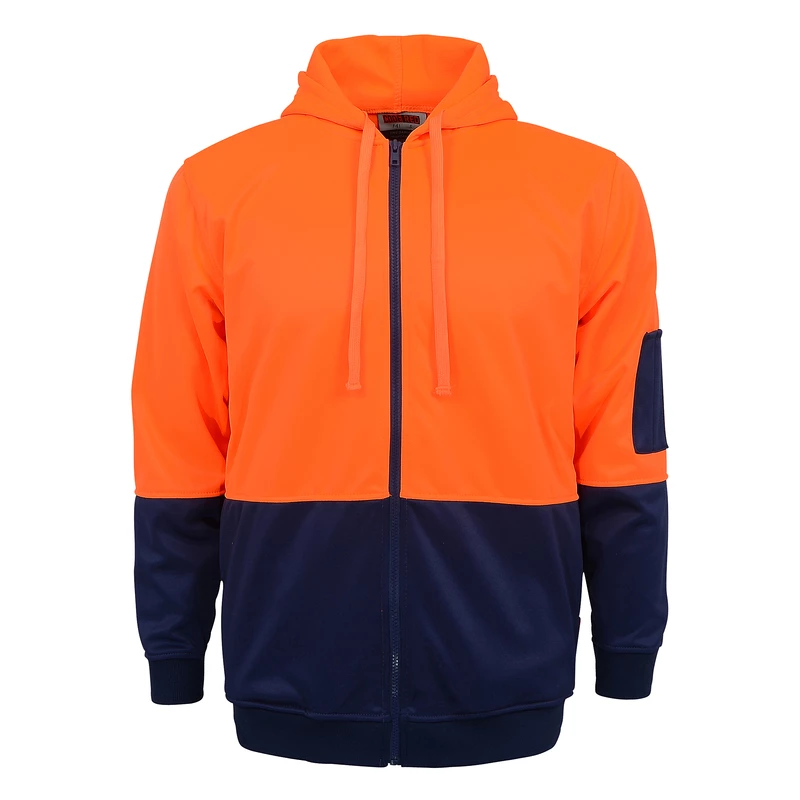 High Vis Orange / Navy
High Vis Orange / Navy

High Vis Yellow / Navy

High Vis Yellow / Navy
High-vis full zip day fleecy hoodie comes in two colours- high vis Orange Navy and high vis Yellow Navy. It features a hoodie to cover the head, a dual-tone design, strings to adjust the hoodie's fit, and a darker waist and cuff design to keep the hoodie appearing clean. In cooler areas, this hoodie provides thermal regulation and should only be worn during the day. It has a sturdy zipper that can keep you secure from chilly temperatures and strong winds while also keeping you seen, safe, and protected. It is quite lightweight and can keep the wearer warm and dry. The hoodie can be personalized with printing or embroidery as needed. If necessary, our designer can make more revisions to the design.
· 100% polyester, 290GSM material
· Zipper hoodie with adjustable strings
· Bright dual-tone colour for safety use
· Soft elastic wrist cuffs
· Fully compliant with Australian standards
Industrial applications: It can be worn by surveyors, fire departments, volunteering, truck drivers, campers, etc. The hoodie can be worn on regular clothes and can be dry washed or tumble dried as required, dries faster and is easy to fold or store.
We provide custom embroidery and printing on the front left, front right, or back of the vest for pre-orders as requested. Additionally, we provide designers who will work together with you to prioritise meeting your goals. Through personalised printing or embroidery, you can put your company name, position, badges, numbers, etc. We will print the products to your specifications and rush-deliver them to your door in a matter of days after you submit your customisation requests and finish your order. Pickup option is also available from our outlet.
CLICK TO ADD LOGO OR PRINT TO ORDER
ADD PRINT
Garment print price details
What colours and sizes do we offer?
The Fleecy hoodies are available in high vis Yellow Navy and high vis Orange Navy, the hoodies can be custom designed as required to meet the demand. We offer on-screen printing and embroidering with premium quality output. The fleece hoodie can be printed with names, logos, badges, etc.
Sizes available are s, m, l, xl, 2xl, 3xl and 5xl.
Is this clothing good for day or night use?
The fleecy hoodie can be worn solely during the day and not at night times. The hoodie is best noticed due to the high-vis compliant colors that help the wearer stay protected at all times. It also adds protection to the head if worn fully over. The hoodie does not perform well under low light conditions.
What material is it made of and how will the print look?
The hoodies are made of quality, breathable, comfortable, durable and high gsm fabric. The 100% polyester and 290gsm fabric are very light and soft to the touch. The clothing can be worn for long hours and intends to keep the wearer from fatigue. We also include a print mockup for your requirements and only begin working on it when fully satisfied. Our in-house designers provide you with suggestions and revisions where required.
When should you wear fleece hoodie?
So long as you're a little chilly, wear fleece in any season you want. Warm yet breathable, you can count on fleece through spring, summer, fall, and winter.
Related News
Sun, Jul 10, 2022 5:58 AM
Sun, Jun 26, 2022 4:07 PM