High Vis Full Zip Sleeveless Day Fleecy Hoodie

All workdepot products

- are available with custom prints

- are available with express delivery

Stock Availability

In Stock

Prints

screen print: 25+

embroidery: 10+

full colour print: 12+

black print: 12+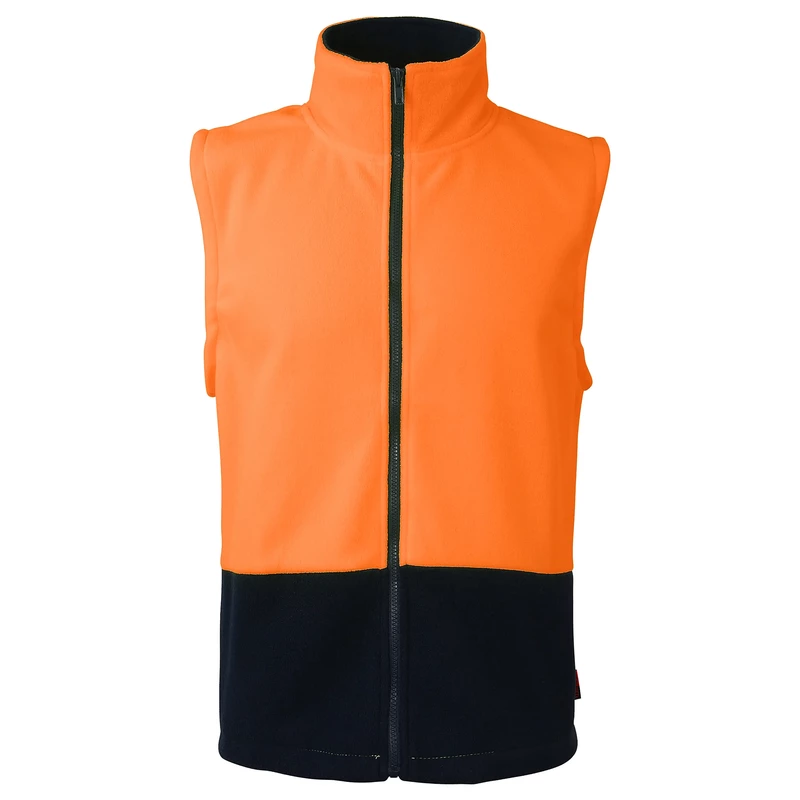 High Vis Orange / Navy

High Vis Orange / Navy

Blank
Blank
The high vis full zip sleeveless day fleecy hoodie is available in two colours- high vis Yellow Navy and high vis Orange Navy. It has dual-tone colours and a zipper. Additionally, the fleecy hoodie lacks sleeves and has a high collar that completely covers your torso while allowing you to move freely with your hands. For a good fit, the fleece jacket has binding on the armhole openings and a full-front zipper. The soft, comfy, washable, and durable material used to make the fleecy hoodie is only appropriate for wearing throughout the day.
The fleecy hoodie is constructed of 100% polyester and 290gsm fabric, which keeps the outfit lightweight and is totally safety compliance with Australian regulations. These additionally provide warmth and safeguard the user in dangerous situations. The hoodie wards off moisture and keeps the wearer warm for a long time without making them tired.
· High vis sleeveless day only fleece
· Helps keep the user warm and protected
· Dual colour design to add contrast
Industrial Applications: The fleecy hoodie can be worn by anyone looking to keep safety as a priority and also keep themselves warm at places like mining fields, farming, airports, camping, etc. The fleece provides excellent insulation and warmth in extreme temperate climate zones.
We can print or embroider names, numbers, designations, logos, and other designs on apparel. This enhances the workforce's aesthetic appeal and ensures that safety is always prioritised while maintaining a professional appearance. As soon as you submit your customization requests and complete your order, we will print the products to your specifications and rush-deliver them to your door. Pickup option is also available from our outlet.
CLICK TO ADD LOGO OR PRINT TO ORDER
ADD PRINT
Garment print price details
What colours and sizes do we offer ?
The full zip sleeveless day fleecy hoodie comes in high vis Yellow Navy and high vis Orange Navy, the sleeveless hoodie can be customized as required to meet the demand like on-screen printing and embroidering with choice of design. The fleece hoodie can be printed with names, logos, badges, etc.
Sizes available are s, m, l, xl, 2xl, 3xl and 5xl.
Are these Non-reflective ?
Yes, these fleecy hoodies do not come with reflective tape/stripes and can only be worn during the day. They come in high viz compliant colors for day use. They perform poorly under artificial lighting. In order to maintain the safety and protection of everyone involved only wear in good natural light conditions.
What material are the fleece hoodies made of and how will the print look?
They are made of 100% polyester, 290gsm fabric that is light/soft to touch, moisture/dirt-repellent and easy to wash and clean when required. The hoodies also dry relatively faster and can have a quick turnaround time for safe workplace use. The fabric is also highly durable making it last longer while maintaining quality throughout. We also provide print mockups first to understand the design outlook. Our designers assist you with revisions when needed and offer valuable insights to make your requirement come through as desired.
Related News
Sun, Jul 10, 2022 5:58 AM
Sun, Jun 26, 2022 4:07 PM
Sat, Apr 30, 2022 6:56 AM