High Vis Day Vest

All workdepot products

- are available with custom prints

- are available with express delivery

Stock Availability

In Stock

Prints

screen print: 25+

embroidery: 10+

full colour print: 12+

black print: 12+
Same day dispatch
order will be dispatched from Sydney the same day of ordering if placed before 11am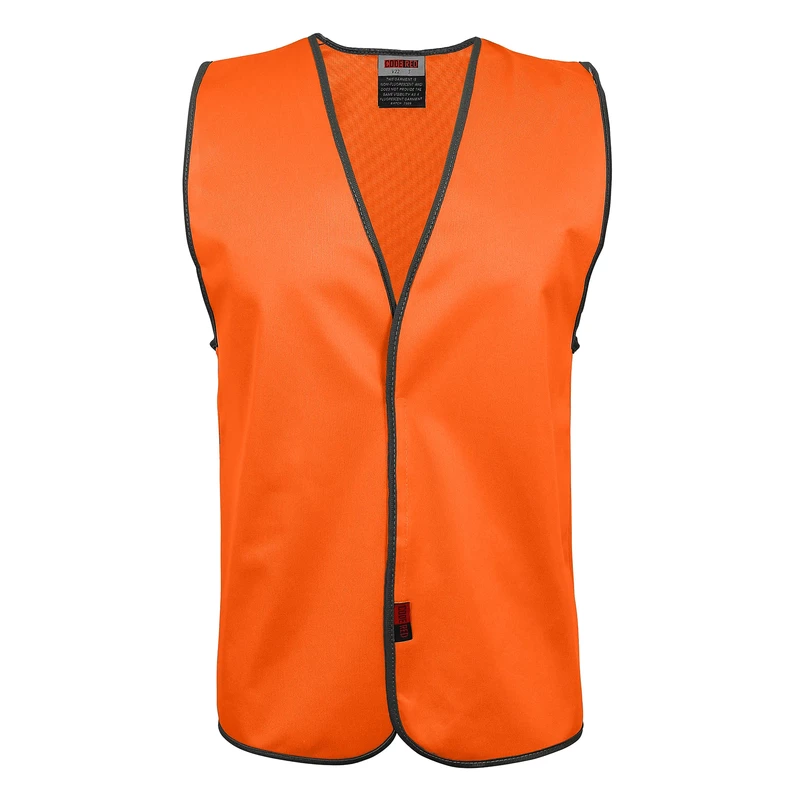 High Vis Orange

High Vis Orange

Printed

Printed

High Vis Yellow

High Vis Yellow
High Vis Day vest is available in 2 colours: High Vis Yellow/Lime and High Vis Orange. They are made with durable and lightweight polyester, in a wide range of sizes- S, M, L, XL, 2XL, 3XL and 5XL. It can be worn over regular clothing. Wearing high-visibility clothing can help lower accidents relating to poor vision.
• Day use only
• 100% Polyester tricot fabric
• High-quality Velcro closure on the front
• Australian standard-compliant
• Can be screen printed or embroidered
• In Stock in Sydney - Pickup available
Daytime high visibility materials are typically not effective when viewed under artificial or low visible light.
Just upload your customization requirement and when you submit your order, we will print it according to your specifications and deliver it straight to your door, through rush delivery in 1-2 days. Pick up option is also available from our outlet.
Industry Applications: High visibility clothing is beneficial for everyone, but most notably those in the construction and industrial business. However, it is recommended in all industrial situations of similar risk levels such as people engaged in road, rail, and building constructions, in ports, airports, shipyards, dockyards, hangers, fire services, search and rescue, emergency and utility services and in bad weather or low visibility etc. They are also worn by cyclists, motorcyclists, traffic police and workers who work on or near roads.
CLICK TO ADD LOGO OR PRINT TO ORDER
ADD PRINT
Garment print price details
Is this product available with a custom print?
Yes, we can provide printing, embroidery and reflective prints on this vest. You can complete the print details online for an immediate quote, or contact us via the 'Request Quote' button. We can print anything on-demand that is requested like the company logo, name and custom designs.
How do I know how my print will look?
We always provide you with a print mockup prior to commencing the work. Our designer will work with you through the revisions to ensure the print matches your requirements. We also provide a premium print guarantee that can stand out, while also meeting your requirements.
How long does it take for printing?
We have a few options available, our fastest print is a next day service, available for limited quantities and for Black ink only prints. A surcharge is applicable for this service, and is based on our workshop availability. Please contact us for more information.
Where are the high vis vests made?
These are made in China and/or India depending on the exact batch details. The printing is done on whole in Australia by our in-house team. The vests are also carefully evaluated for quality and safety before despatch by our team.
Do these vests adhere to Australian safety regulations?
The colourful safety vests are top-notch clothing created in accordance with Australian regulations. However, only the orange and yellow vests satisfy the standard's colour standards, requiring the wear of these vests in potentially dangerous construction zones. The use of yellow and orange vests has become routine and unnecessary in a lot of circumstances and places. A clever technique to identify between various roles and persons, unless it is specifically stated in your H&S policy, is to wear a different coloured vest. For instance, security personnel wear black, visitors wear pink, fire fighters wear red. The same is possible for your business, institution of college or university, or place of worship.
Related News
Fri, Nov 25, 2022 7:33 AM
Fri, Sep 30, 2022 6:39 AM