High Vis Full Zip Day/Night Fleecy Hoodie

All workdepot products

- are available with custom prints

- are available with express delivery

Stock Availability

In Stock

Prints

screen print: 25+

embroidery: 10+

full colour print: 12+

black print: 12+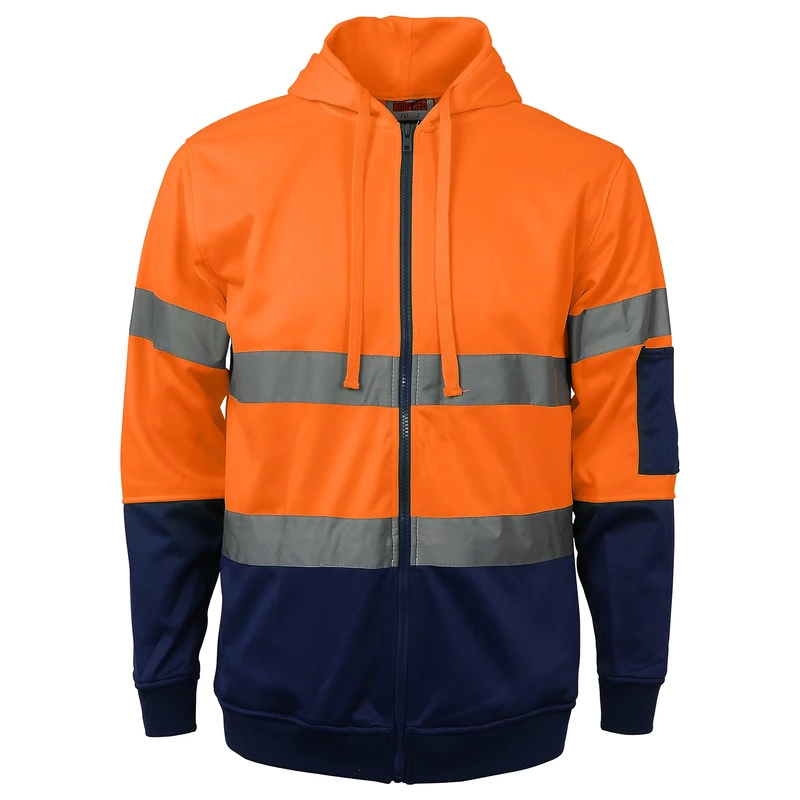 High Vis Orange / Navy

High Vis Orange / Navy

Blank

Blank
The high-vis full zip day and night fleecy hoodie comes in two colours- high vis Yellow Navy and high vis Orange Navy.
It includes thick zipper and long sleeves. Additionally, the hoodie features a distinctive dual-tone colour that complies fully with Australian safety regulations. The entire hoodie, including the sleeves, has a reflective strip that may provide excellent safety throughout both day and night-time working hours. This has a high-visibility colour that not only highlights the body but also the head, protecting it.
· High vis Australian compliant day and night fleece
· Zipper, adjustable string and dual-tone colour
· Made of 100% polyester and 290gsm fabric
· Reflective tape on front, back and sleeves included
Industrial Applications: Truck drivers, field labourers, traffic monitors, machinery operators, railroad workers, safety personnel, and many more can all wear the cosy hoodie. This hoodie is a need for safety and protection due to its many uses. It is extremely durable, cosy for extended periods of time, stain-resistant, and simple to wash and maintain.
The fleecy hoodie can be specially made to fit your needs on demand; we can print or embroider names, numbers, designations, logos, and other designs on apparel. This enhances the workforce's aesthetic appeal and ensures that safety is always prioritised while maintaining a professional appearance. Additionally, the hoodie contains adjustable strings that may be used to change the hood's fit as needed. As soon as you submit your customization requests and complete your order, we will print the products to your specifications and rush-deliver them to your door. Pickup option is also available from our outlet.
CLICK TO ADD LOGO OR PRINT TO ORDER
ADD PRINT
Garment print price details
What colours and sizes do we offer ?
The Fleecy hoodies are available in high vis Yellow Navy and high vis Orange Navy. The safety hoodie can be printed on or embroidered as requested with names, logos, tags, etc. The color of the hoodie is a dual-tone design that stands out while providing safety.
Sizes available are s, m, l, xl, 2xl, 3xl and 5xl. Please check our stock information on the chart as well.
Can I wear this fleecy hoodie at day or night?
The fleecy hoodie can be worn both during the day and night. It is fully compliant with Australian safety standards and comes with 5cm wide high-quality reflective strips that add visibility to the already contrasting dual-tone color design of the hoodie. It also comes in use even during low light conditions under artificial settings.
How will my print look and how fast will it be shipped?
The print or embroidering is done only after the approval of the print mockup. The mockup can deliver a great understanding of the look and feel of the design. This also means that our team of designers will work with you on your requirements and you are satisfied to start ordering. Once the order is placed it is dispatched in standard time based on the availability of stock and design sophistication. We also offer same-day printing and shipping on priority for a surcharge if required. Please reach out to us.
Related News
Sun, Jul 10, 2022 5:58 AM
Sun, Jun 26, 2022 4:07 PM