Hi Vis Fleecy Pullover

All workdepot products

- are available with custom prints

- are available with express delivery

Stock Availability

In Stock

Prints

screen print: 25+

embroidery: 10+

full colour print: 12+

black print: 12+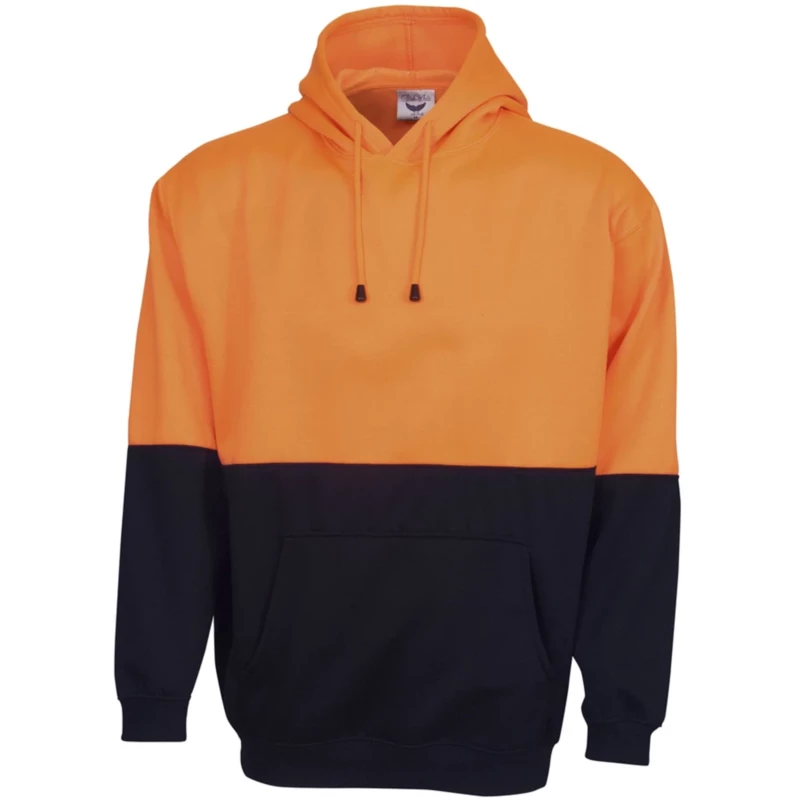 High Vis Orange / Navy
High-vis fleecy pullover comes in high vis Orange Navy colour. It has a hoodie to keep the head covered, a dual-tone pattern, strings to customise the fit of the hoodie, and a darker waist and cuff design to keep the hoodie looking neat. This hoodie can keep you warm in colder climates and shield you from powerful winds while also making you visible, safe, and protected. It can keep the person dry and warm while being quite lightweight. The hoodie can be customised as desired through printing or embroidery. More design changes can be made if required by our designer.100% polyester, 290GSM material
· Bright dual-tone colour for safety use
· Contrast panel in navy for a great look
· Kangaroo pockets in the front
· Soft elastic wrist cuffs
· Fully compliant with Australian standards
Industrial applications: It can be worn by surveyors, members of the fire service, volunteers, truck drivers, and campers, among others. The hoodie may be layered over other clothing, can be tumble dried or dry cleaned as needed, dries more quickly, and is simple to fold or store.
For pre-orders, we may accept requests for custom embroidery and printing on the front left, front right, or rear of the vest. In addition, we offer designers who will collaborate with you to put attaining your goals first. Your corporate name, position, badges, numbers, etc. can be added through customised printing or embroidery. After you submit your customization requests and complete your order, we will print the products to your specifications and rush-deliver them to your door. Pickup option is also available from our outlet.
CLICK TO ADD LOGO OR PRINT TO ORDER
ADD PRINT
Garment print price details
What are the available colours?
The Fleecy hoodies are available in high vis Orange Navy. The hoodie can be custom designed as required to meet the demand. We offer on-screen printing and embroidering with premium quality output. The fleece hoodie can be printed with names, logos, badges, etc.
Sizes available are s, m, l, xl, 2xl, 3xl and 5xl.
What material is it made of and how will the print look?
The hoodies are made from high-quality, breathable, warm, long-lasting fabric. The 290gsm, 100% polyester fabric is extremely thin and cuddly to the touch. The apparel is designed to avoid wearer fatigue and can be worn for extended periods of time. We also provide a print mockup for your specifications, and we only start working on it once you are completely pleased. When necessary, our in-house designers offer you suggestions and changes.
Is this clothing good for day or night use?
The fleecy hoodie is only appropriate for daytime wear; it cannot be worn at night. The high-visibility conforming colours of the hoodie make it stand out the most and help the wearer stay safe at all times. If worn completely over, it also gives protection for the head. Low light does not favour the hoodie's performance.
Related News
Thu, Jul 14, 2022 5:13 AM
Sun, Jul 10, 2022 5:58 AM
Sun, Jun 26, 2022 4:07 PM