High Vis Day/Night Zipper Vest with ID Patch

All workdepot products

- are available with custom prints

- are available with express delivery

$12.97 to $14.83

inc. GST

$11.79 to $13.48 + GST

+ print or embroidery

Stock Availability

In Stock

Prints

screen print: 25+

embroidery: 10+

full colour print: 12+

black print: 12+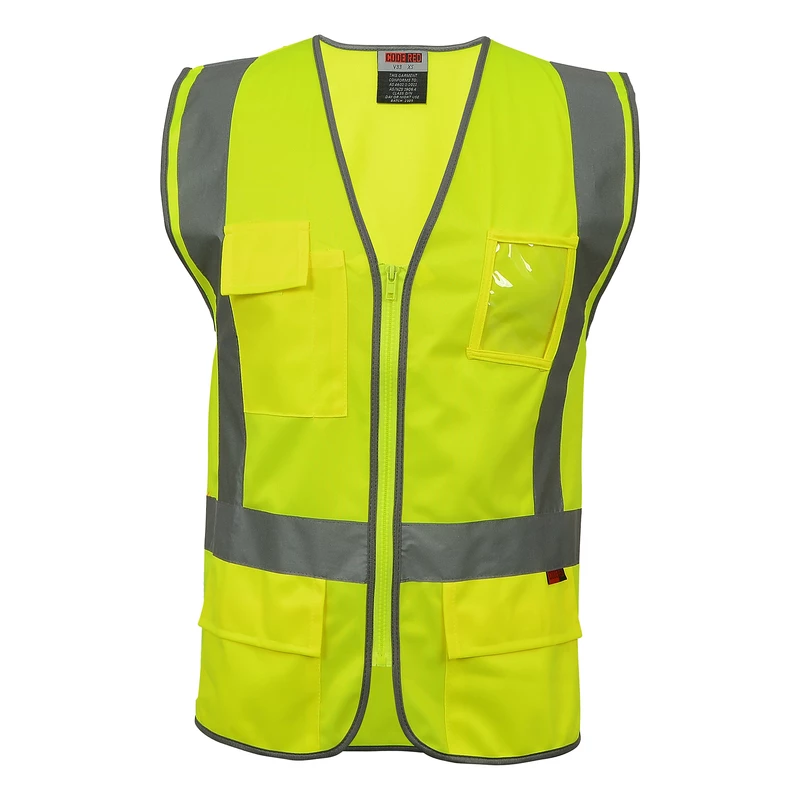 High Vis Yellow

High Vis Yellow

High Vis Orange

High Vis Orange
High Vis Day/Night Zipper Vest CR-V33 comes in 2 colours: high Vis Orange, high Vis Yellow. It is a High Visibility Reflective Vest, in which the Right-hand chest has a clear ID pocket along with up to three multi-functional pockets in the front and wide reflective tape strips cover the waist, chest, shoulders, and back which provide complete coverage whether you are working under daylight or low light conditions. The vests have a zipper for the perfect all-weather fit and come in 2 distinctive single-tone colors. There is also a pen pocket holder on the right chest area that can help surveyors and engineers have easy access to writing instruments and has a flap to secure them.
· High-quality Heavy-duty zipper
· Additional pockets for carrying
· Protects wearer against all weather
· Features hight quality zip closure better than velcro.
· Conforms to AS/NZ 4602.1:2011 Class D/N use safety wear according to the Australian standards.
Industrial applications: The vest comes with an Id cardholder which provides good identification capability. It can be used by surveyors, engineers, safety inspectors, plantation workers, volunteers, etc. Added pockets to carry accessories required for quick access and have a flap to prevent spillage. The material is a highly versatile 120gsm-100% polyester, which makes it easy to wash, durable and light to wear.
Your company name, title, numbers, etc. can be custom printed or embroidered on the polo shirt. When you upload your customisation requests and complete your purchase, we will print the items in line with your requests and rush-deliver them to your door in a couple of days. Alternatively, pick-up option is available from our outlet.
CLICK TO ADD LOGO OR PRINT TO ORDER
ADD PRINT
Garment print price details
What Colours and Sizes do we offer ?
The vest is available in high vis orange and high vis yellow while offering the best safety and protection for users. The vests can be further custom printed or embroidered with anything from logos, names, tags, numbers, etc. This is done with sufficient quality inspection and ideal quality checks
Our range of sizes are xs, s, m, l, xl, 2xl, 3xl, 5xl, 7xl
Are there any pockets or zippers ?
Yes, the vests come with a sturdy zipper that is highly durable and there are waist pockets in the front along with a clear ID pocket on the left chest. These offer easy access to tools, instruments, personal items, etc. They also come with flaps that can secure the pockets and prevent spillage.
How long does it take for printing and how will they look?
We have a few options available, our fastest print is a next-day service, available for limited quantities and for black ink only. A surcharge is applicable for this service and is based on our workshop availability. Our printing options allow you to preview mockups and then decide to proceed with the print order. We also have designers who can help with revisions, please contact us for more information.