Dual Tone Colour High Vis Safety Vest with Zipper and Pockets

All workdepot products

- are available with custom prints

- are available with express delivery

$12.97 to $14.83

inc. GST

$11.79 to $13.48 + GST

+ print or embroidery

Stock Availability

In Stock

Prints

screen print: 25+

embroidery: 10+

full colour print: 12+

black print: 12+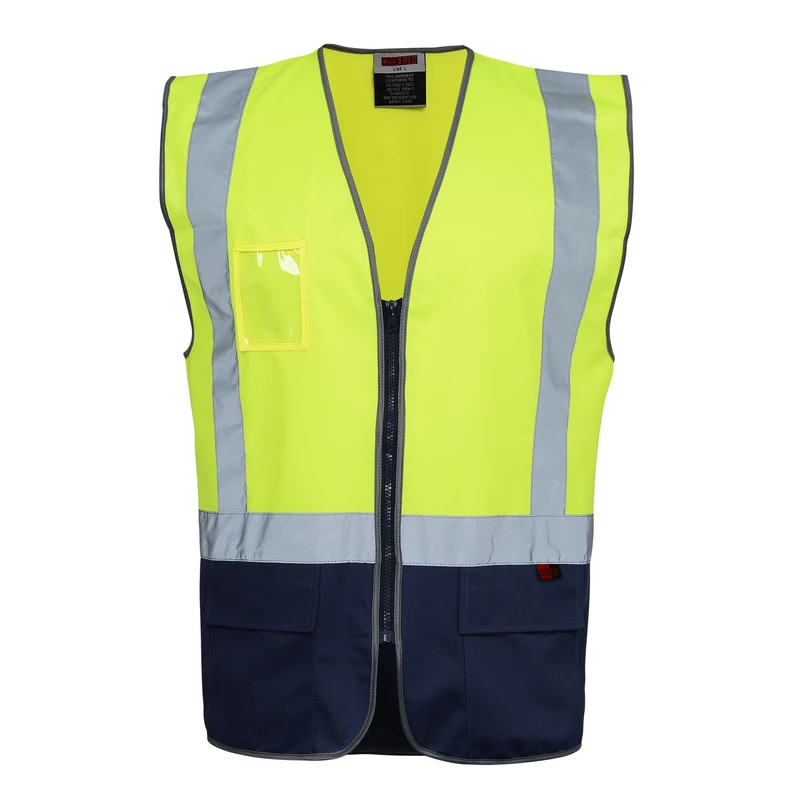 High Vis Yellow / Navy

High Vis Yellow / Navy

High Vis Orange / Navy

High Vis Orange / Navy
The Dual-colour high vis safety vest comes in 2 colours- High Vis Orange Navy, high Vis Yellow Navy with a zipper and pockets, that provide enhanced visibility along with contrasting trim. In addition, it has a chest pocket, two additional flap-covered front coat pockets, and a clear ID pocket. Protected, convenient, and secure pockets for comfort and mobility that also keep users visible and safe. Offers identification and better visibility among peers. Highly reliable vest and essential for any workplace, to safeguard its occupants and staff, and to avoid accidents or problems.
· Three flap pockets with enclosure
· Highly dynamic colour combo for better visibility
· Reinforced pockets and durable flaps
· Great for all-purpose usability
Australian Compliant to AS/NZ 4602.1:2011 Class D/N use safety wear.
Industrial application: The pockets on this vest offer versatile use for surveyors, miners, construction, environmentalists and many more. The vest offers ease of access and increases functionality with the extra pockets on offer which makes working easier. Provided zipper makes the wearer remain protected from dirt, paint, water, etc and keeps the user secure from the harsh environment.
The product offers great customization options with names, numbers, designs, etc and delivers safety with the high reflective strip that stands out and protects the wearer at all times. When you upload your customisation requests and complete your purchase, we will print the items in line with your requests and rush-deliver them to your door in a couple of days. Alternatively, pick-up option is available from our outlet.
CLICK TO ADD LOGO OR PRINT TO ORDER
ADD PRINT
Garment print price details
Are there any pockets and zippers ?
Yes, there are three multifunctional pockets in the front waist area, a radio pocket on the right chest and a clear ID pocket on the left chest. The pockets are designed with flaps to help carry accessories and come with flaps to protect the user against any spillage. The zipper is made of a good quality heavy-duty material that does better than just regular velcro.
What colors and sizes do we offer ?
We have special distinctive dual-tone colors In high vis Orange Navy and high vis Yellow Navy. These are high viz colors that come with a dark undertone which keeps the wearer safe and helps keep them looking neat.
Our range of sizes are xs, s, m, l, xl, 2xl, 3xl, 5xl, and 7xl, they also come highly customizable with printing and embroidery options.
How will my print look and how long does it take?
We always go back and work with you with a print mockup prior to commencing the printing or embroidery work. Our designers will help you through the revisions to ensure the print matches your actual requirements. The prints can be done on the same day for a surcharge and also depends on the availability of stock and the type of design involved.