NSW Rail Day and Night Quick Release Vest with 'X' Pattern Tape

All workdepot products

- are available with custom prints

- are available with express delivery

$13.58 to $15.53

inc. GST

$12.35 to $14.12 + GST

+ print or embroidery

Stock Availability

In Stock

Prints

screen print: 25+

embroidery: 10+

full colour print: 12+

black print: 12+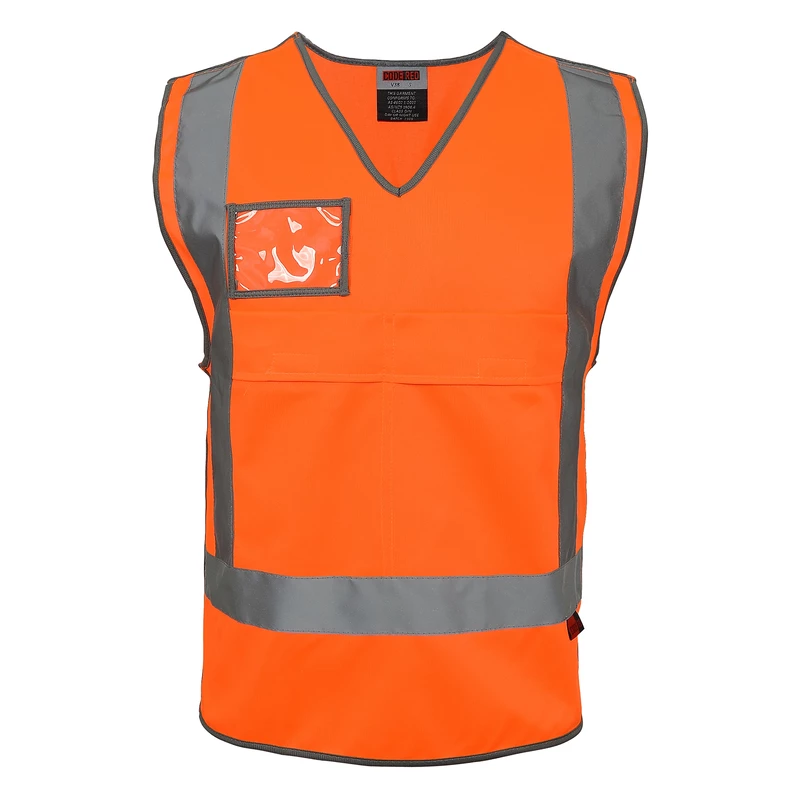 High Vis Orange

High Vis Orange
NSW Rail safety vest with quick-release velcro, which is available in high visibility orange with X pattern tape, provides its wearers with the ideal mix of safety and identity. The closed vest has a wonderful snug fit and it does not come off easily. It can be put on with ease and doesn't need straps or a zipper. The vest works best in areas with high physical demand, danger, and harsh conditions. It also contains a transparent ID pocket on the chest for simple identification. The vest features a v-neck and may be worn over other garments as needed. It can also be removed with ease when not needed.
The garment's reflective design is intended to make the wearer visible and safe even when they are not actively looking for it.
· ID pocket in the front for easy identification
· Highly reliable material
· All-weather closed-fit design
· Use where constant attention is required
· Compliant with the Australian standards
Industrial applications: It is most effective when worn in environments including mines, airports, steel mills, civil jobs, hiking trails, shooting ranges, and traffic. Additionally, the vest offers protection and thermal insulation. The fabric is made of 120gsm 100% polyester, which can be washed frequently, is extremely durable, breathable, and has a calming effect.
We provide on-demand custom printing via printing and embroidery on the front left, front right, or rear as necessary. The polo shirt can be personalised with custom printing or embroidery using your company name, title, numbers, etc. After you finish your order and upload your customization requirements, we will print the things according to your specifications and rush-deliver them to your door in a few days. Choose to pick up your order at our location instead.
CLICK TO ADD LOGO OR PRINT TO ORDER
ADD PRINT
Garment print price details
What Colours and Sizes do we offer ?
The available color is high vis Orange which is both compliant and stands out. This vest can be readily customized by anyone looking to add names, logos, tags and additional designs on the vest. Both printing and embroidering are available.
Our range of sizes are xs, s, m, l, xl, 2xl, 3xl, 5xl and 7xl
What is a closed X vest ?
The vest comes with a tee-like design and sits very close to the body for adequate protection and convenience for the user. The X taped vest can add noticeability to the wearer at all times and helps safeguard workplace safety standards.
How do I know how my print will look and how soon can i get it delivered?
We always provide you with a print mockup that can help realize designs and gives you room to improve if needed before commencing the work. Our in-house team of designers will work with you through revisions and assurance to ensure the print matches your prerequisites. The vests can be picked from our Sydney warehouse, can be standard shipped or a priority order can be placed by contacting us for same-day printing for a surcharge based on availability.