Deputy Chief Warden Vest

Stock Availability

In Stock

Prints

screen print: 25+

embroidery: 10+

full colour print: 12+

black print: 12+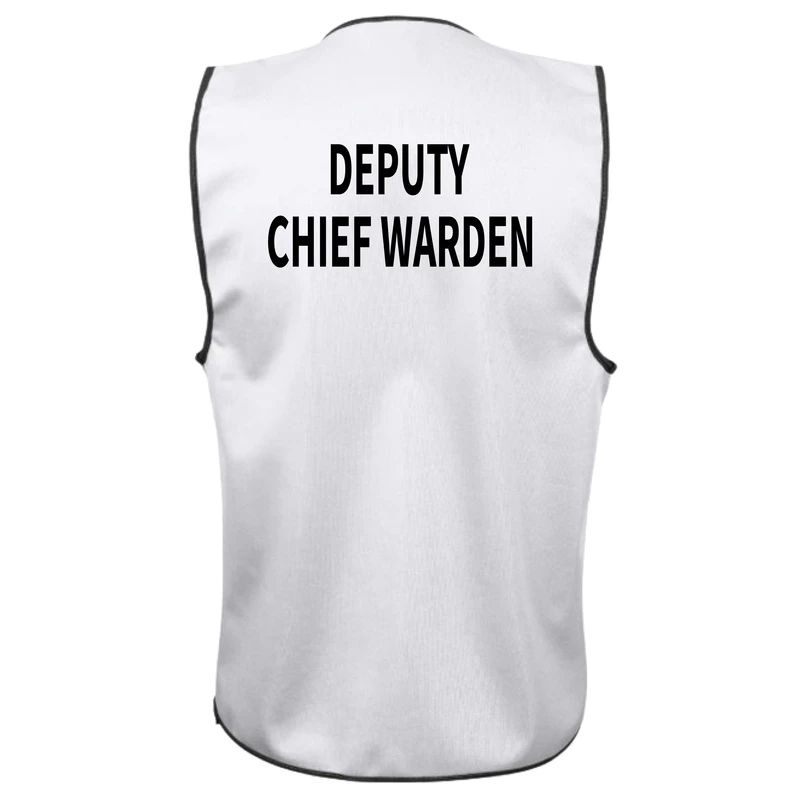 DEPUTY CHIEF WARDEN

DEPUTY CHIEF WARDEN
The Deputy Chief Warden vest comes in White colour which is perfect to visibly identify them quickly during any emergencies. Designed in light weight polyester to help you stay cool and comfortable, it comes pre-printed with the word "DEPUTY CHIEF WARDEN" in bold black lettering on the front left and centre back.
When the Chief Warden is absent from the building, the Deputy Chief Warden will shadow him and handle the Chief Warden's responsibilities. The Vest can be further personalised by adding names, numbers or any designs. It can be worn over regular clothing and comes equipped with adjustable Velcro fastening to enable maximum comfort to the wearer. It comes in a wide range of sizes- XS, S, M, L, XL, 2XL.
1. 100% Polyester Tricot
2. Cool, breathable and lightweight
3. DEPUTY CHIEF WARDEN print on front left chest and back
4. Add additional prints as required
5. No minimum quantity
The prints are highly visible against the vest because of the classic colour scheme black and white. Other colour options are also available on request, but they will not be consistent with the Australian Standards.
This vest can be combined with our Deputy Chief Warden's Cap for a complete look, so why not order both and save on shipping!
If you require any customisation to match your company branding requirements, upload it and when you submit your order, we will print it according to your specifications and deliver it straight to your door, through rush delivery in 1-2 days. Pick up option is also available from our outlet.
Buy our Chief Warden Vest: https://www.workdepot.com.au/code-red/printed-high-vis/chief-warden-white-day-vest
CLICK TO ADD ADDITIONAL PRINT OR LOGO
ADD PRINT
Garment print price details
Can we get this vest printed in someother colours too?
Yes we can get it done, but be warned that it will not be in compliant with Australian Standards.
Can we get our name, logo design or any other prints on the vest?
Ofcourse, you can customise the vests as you wish. Get in touch with our team by using the 'Request a Quote' functionality and let us know the details of the order. The order shall get going in no time!