High Vis Teacher on Duty Day Vest

All workdepot products

- are available with custom prints

- are available with express delivery

SKU

CR-VDO-TEACHER-ON-DUTY

Stock Availability

In Stock

Prints

screen print: 25+

embroidery: 10+

full colour print: 12+

black print: 12+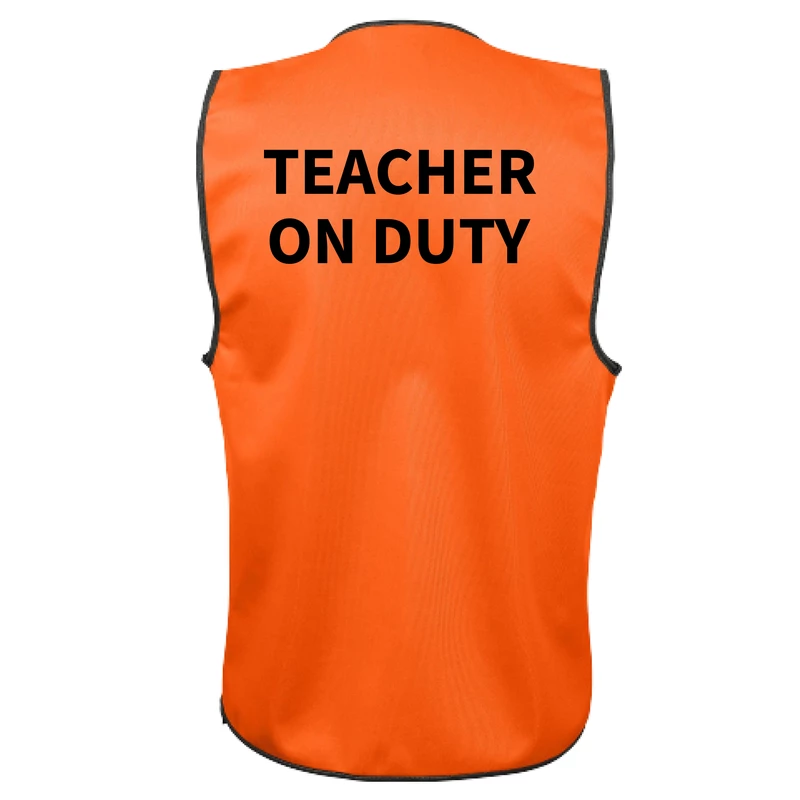 High Vis Orange

High Vis Orange

High Vis Yellow

High Vis Yellow
The TEACHER ON DUTY High Visibility Vest, available in High Vis Yellow and High Vis Orange, comes pre-printed with the words "TEACHER ON DUTY" on both the front and back for easy identification. It can be further personalized by adding names or numbers. Made from durable and lightweight polyester, this hivis vest is available in a wide range of sizes- S, M, L, XL, 2XL, 3XL, 4XL, and 5XL and can be worn over regular clothing.
• "TEACHER ON DUTY" print on back in black ink, 280mm wide x 5cm
• "TEACHER ON DUTY" print on the front in black ink, 100mm x 2cm
• "TEACHER ON DUTY" print on front left chest and back
• 100% Polyester Tricot
• Breathable and lightweight
• No minimum quantity is required
• Option for additional prints
The prints are highly visible against the hiviz vest and are large enough to be seen from a distance, ensuring recognition for the wearer in any situation. Other color options are also available upon request.
Industry Applications: These hi vis vests may be worn to seminars, classrooms, lunch breaks, playground duty, bus duty, cultural events, workshops, boot camps, events and other venues where a teacher is present and need to remain instantly apparent to others at all hours of the day.
Customization is also available to match your school or company's branding requirements, and the hi viz can be delivered straight to your door through rush delivery in 1-2 days, or picked up from our outlet.
Check out our Chief Warden High Vis Day Vest: https://www.workdepot.com.au/code-red/printed-high-vis/chief-warden-white-day-vest
CLICK TO ADD LOGO OR PRINT TO ORDER
ADD PRINT
Garment print price details
Who is the Teacher on Duty vest ideal for?
This fluorescent hi-vis vest is ideal for teachers, educators, and employees in educational and childcare settings to wear over their work attire during lunch breaks, playground duty, bus duty, emergencies (including evacuation protocols), carnivals, events, and other activities.
Can I only get these in Hi vis colours?
Absolutely not! Get in touch with our team by using the 'Request a Quote' functionality and let us know the details of the order. The order shall get going in no time!
Can we get our school logo design or any other prints on the vest?
Of course yes. If you require any customisation to match your school/ institute branding requirements, we can do the desired custom printing for the same price.