High Vis Short Sleeve Day Polo Shirt

All workdepot products

- are available with custom prints

- are available with express delivery

Stock Availability

In Stock

Prints

screen print: 25+

embroidery: 10+

full colour print: 12+

black print: 12+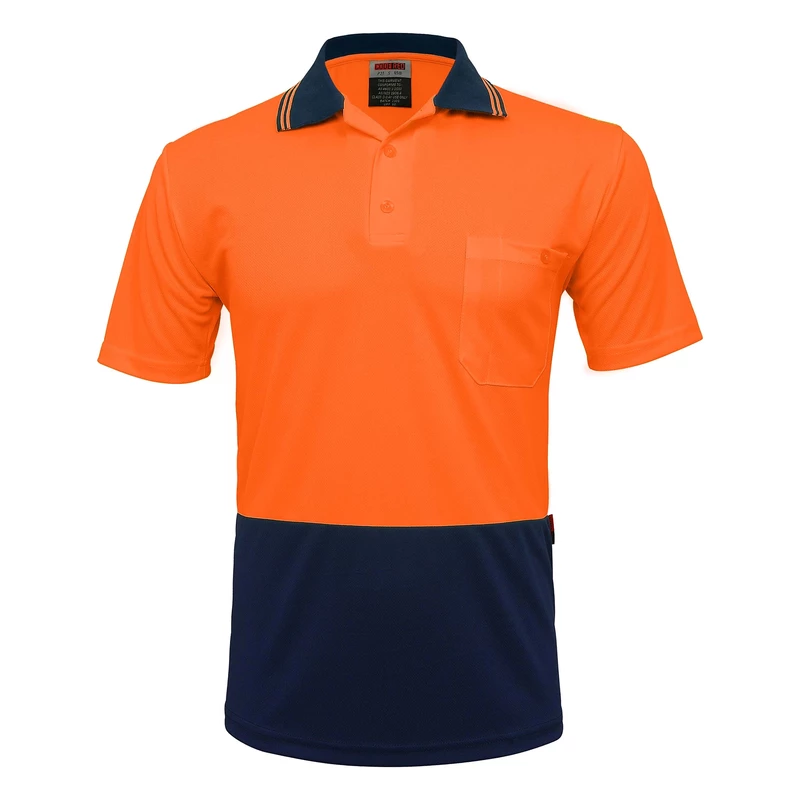 High Vis Orange / Navy

High Vis Orange / Navy

High Vis Orange / Navy

Blank

Blank
Only to be worn during the day, high-visibility short sleeve day polo shirts are available in two colours: high viz orange navy and high vis yellow navy. It is made of soft, breathable fabric that is comfortable to wear for longer periods of time. The day-only safety vest can be replaced with this polo shirt, which also has collar buttons for enhanced comfort. The user may be in danger if they wear in low light. To evaluate the shirt in detail, refer to the gallery's images.
• High vis Australian compliant Day Polo
• Dual-tone front design
• Secure pocket on the right chest area
• Round collar
• Adjustable collar with buttons for comfort
• Outdoor and indoor use
Industrial Applications: The Polo shirt can be worn during the day for transit, office work, hiking, riding, and other outdoor activities. It may be quickly and simply washed with water, cleaned, and dried. The garment is made of a 100% polyester fabric that is lightweight, incredibly soft, and fits the body perfectly. It serves as an alternative to safety-casual workwear while also providing more comfort and protection.
Your company name, title, numbers, etc. can be custom printed or embroidered on the polo shirt. When you upload your customisation requests and complete your purchase, we will print the items in line with your requests and rush-deliver them to your door in a couple of days. Alternatively, pick-up option is available from our outlet.
CLICK TO ADD LOGO OR PRINT TO ORDER
ADD PRINT
Garment print price details
What colours and sizes do we offer ?
We have two special distinctive dual-tone colors such as high vis orange navy and high vis yellow navy. The polos can be custom printed and designed to meet your requirements. The customization incorporates printing and embroidering that can be provided on demand by our in-house designers on request.
Our range of sizes stands are xs, s, m, l, xl, 2xl, 3xl, 5xl and 7xl.
Is this vest good application for daylight or night ?
These polos must only be used in natural daylight applications. Not to be worn under dim or artificial lighting conditions. They can also be worn as regular workwear which demands safety and protection of the workforce at all times. This also means the material is good enough to be worn comfortably throughout the day without any fatigue.
How do I know how my print will look and how soon can it be shipped?
We always provide you with a print mockup prior to commencing the work. Our designers will work with you through the revisions to ensure the print matches your requirements. The shipment will be printed and shipped on priority if required for a surcharge. if not, we offer standard shipping duration for all our orders and will be done on stock availability and nature of print required.
Related News
Mon, Jul 11, 2022 4:28 AM