High Vis Short Sleeve Day/Night Polo Shirt

All workdepot products

- are available with custom prints

- are available with express delivery

Stock Availability

In Stock

Prints

screen print: 25+

embroidery: 10+

full colour print: 12+

black print: 12+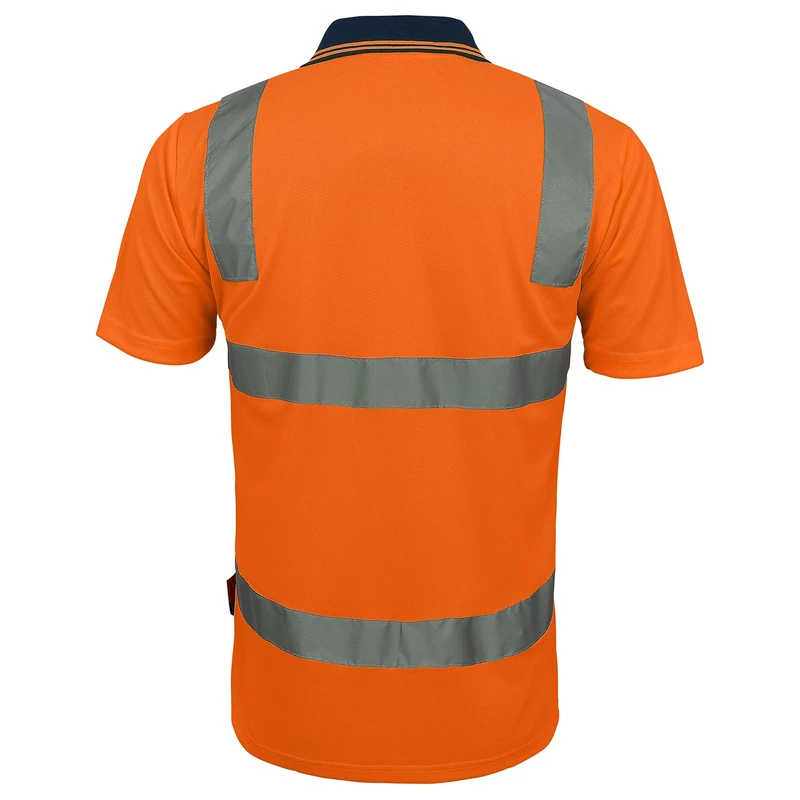 High Vis Orange / Navy

High Vis Orange / Navy

High Vis Yellow / Navy

High Vis Yellow / Navy
The high vis short-sleeve day/night polo shirt comes in two colours- high vis orange navy and high vis yellow navy with 5cm reflective tapes that cover the front, back and shoulder area. For a loose fit, this polo shirt offers a pocket on the front chest area and a robust collar. Due to its high level of reflectivity and suitability for both indoor and outdoor work, this polo shirt can be worn both during the day and at night. The polos can be worn alone or over formal clothing, and both options allow the wearer to feel comfortable. The material is strong and engineered to be lightweight. To ensure user safety, the polos can be used at night or in poor illumination. Day and night use compatibility
· Full torso protection
· 100% polyester, 150gsm material
· Compatible with Australian standards
· Comfortable collar and material
Industrial applications: It is best used by railroad workers, traffic enforcement officers, construction workers, engineers, miners, cyclists, etc. This vest can be used for protection in severely dangerous conditions and delivers the same level of comfort as a polo shirt. The fabric is washable, strong, and lightweight.
We provide on-demand custom printing via printing and embroidery on the front left, front right, or rear of the polo as necessary. The polo shirt can be personalised with custom printing or embroidery using your company name, title, badges, numbers, etc. After you finish your order and upload your customization requirements, we will print the things according to your specifications and rush-deliver them to your door in a few days. Choose to pick up your order at our location instead.
CLICK TO ADD LOGO OR PRINT TO ORDER
ADD PRINT
Garment print price details
What Colours and Sizes do we offer ?
The available dual-tone colors are high vis Orange navy and high vis Yellow navy. The polos come in high-vis compliant colors that can provide workplace safety and protection. The polo shirts are also customizable with prints and embroidery.
Our range of sizes are xs, s, m, l, xl, 2xl, 3xl, 5xl and 7xl
Is this shirt good application for daylight or night ?
Yes, the polo shirt can be worn at all times for protection. It can be worn during broad daylight for easy recognition on-field or indoors for safety, while also finding great use at night time or in artificial low lighting. The reflective strips offer the best support to the wearer.
How do I know how my print will look and how soon will it ship?
We will provide you with a print mockup prior to commencing any printing or embroidering of the polo shirts. Our in-house designers will work with you to understand the requirements in detail, while also being provided revisions to ensure the print matches your prerequisites. The shipping is based on stock availability and the print work involved, it is standard for all orders. If same-day printing or priority shipping is requested a surcharge will be levied.