High Vis Long Sleeve Day/Night Polo Shirt

All workdepot products

- are available with custom prints

- are available with express delivery

Stock Availability

In Stock

Prints

screen print: 25+

embroidery: 10+

full colour print: 12+

black print: 12+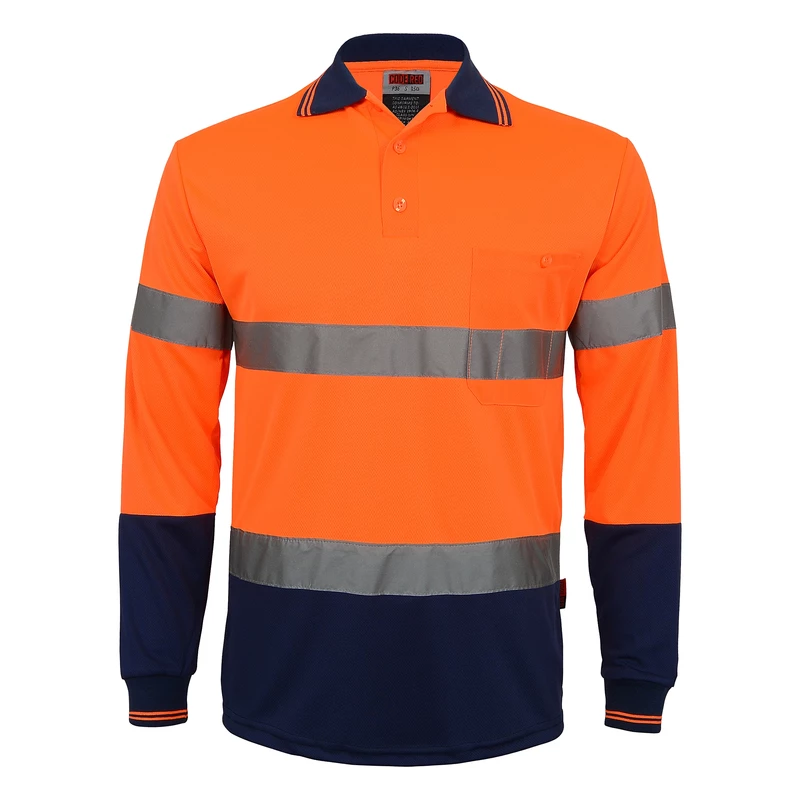 High Vis Orange / Navy

High Vis Orange / Navy

Blank

Blank
The high vis long sleeve day/night polo shirt is available in two colours- high vis Orange Navy and high vis Yellow Navy. The entire shirt is lined with a highly reflective tape. Refer to the images, please. The shirt's black dual-tone colour and darkened high-contact areas, which can help disperse dirt, along with the material's use make you stand out. Additionally, it has striking colours that will make you stand out and keep you visible at all times of the day.
The polo is composed of 150gsm of 100% polyester, a fabric that is lightweight, strong, and most importantly, highly comfortable to wear for extended periods of time.
· Keeps you safe and protected
· Compliant with Australian standards
· No fading and easy washing
· Comfortable and clean look
Industrial Applications: The polo shirt is used by forklift operators, warehouse workers, hikers, road workers, construction workers, airport workers, traffic workers, and many more. The collar and cuffs on the shirt are designed for comfort and adaptability. The polo is a wonderful option for individuals who want to feel comfortable and at ease while working both during the day and at night. Reflective tape covers the entire torso, and the shirts are high-visible compliance and in colours that stand out and are simple to spot by co-workers.
On the polo shirt, we can print or embroider names, numbers, designations, logos, and other patterns. This improves the aesthetic attractiveness of the workforce and guarantees that safety is constantly prioritised while keeping a professional image. As soon as you submit your customization requests and complete your order, we will print the products to your specifications and rush-deliver them to your door. Pickup option is also available from our outlet.
CLICK TO ADD LOGO OR PRINT TO ORDER
ADD PRINT
Garment print price details
What colours and sizes do we offer ?
The available distinctive dual-tone colors are high vis orange navy and high vis yellow navy. The colors are high-vis compliant and can be worn both day and night. The polos are also covered with reflective tape for safety and protection.
Our range of sizes are xs, s, m, l, xl, 2xl, 3xl, 5xl and 7xl
Is this polo good application for daylight or night ?
Yes, this polo shirt can be worn at all times for protection. The polos can be sported during the daytime and night or under artificial lighting. The reflective strips and the high vis color can help keep the wearer and the workplace safe.
How do I know how my print will look and how long will shipping take?
We always provide you with a print mockup prior to commencing the work based on requests. Our designers will work with you through revisions to ensure the print matches your requirements. The shipping takes standard time and depends on stock availability and print complexity. We also provide priority same-day printing and shipping for a surcharge.