High Vis Long Sleeve Day Polo Shirt

All workdepot products

- are available with custom prints

- are available with express delivery

Stock Availability

In Stock

Prints

screen print: 25+

embroidery: 10+

full colour print: 12+

black print: 12+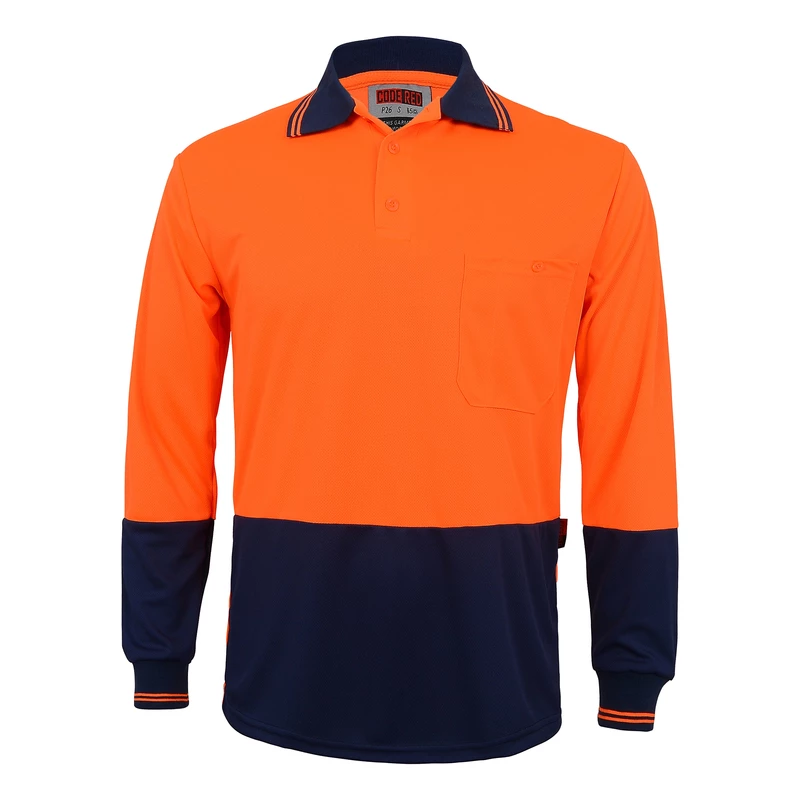 High Vis Orange / Navy

High Vis Orange / Navy

High Vis Yellow / Navy

High Vis Yellow / Navy
High vis long sleeve day polo shirt comes in two colours- high vis orange navy and high Vis yellow navy. It has a full arm coverage and a dual-tone front design. It sports a dual-tone front design and complete arm coverage. The elastic material that makes up the whole sleeve cuff provides the wearer with safety and protection. It also has a round collar for a loose fit and is only meant to be worn during the daytime. It complies with Australian standards. It has a chest side safe pocket and is composed of a high polyester material to keep the wearer comfortable. The waist and the end of the sleeves are designed to help keep dirt hidden and can be used without worrying about the look of the polo shirt.
· Long-sleeve design
· Dual-tone distinctive colour
· Casual and comfortable
Industrial Applications: This polo shirt can be worn by police, emergency responders, cyclists, plumbers, road safety officers, etc. It not only offers good comfort but also comes in a breathable and sturdy design to help keep you performing long hours and provides safety while at it. The polo is made from 100% polyester, 150gsm material which is lightweight, easy to wash and clean. The polos are durable and can be worn daily as casual workwear.
We provide on-demand custom printing via printing and embroidery on the front left, front right, or rear of the polo as necessary. The polo shirt can be personalised with custom printing or embroidery using your company name, title, badges, numbers, etc. After you finish your order and upload your customization requirements, we will print the things according to your specifications and rush-deliver them to your door in a few days. Choose to pick up your order at our location instead.
CLICK TO ADD LOGO OR PRINT TO ORDER
ADD PRINT
Garment print price details
What colours and sizes do we offer ?
We have two distinctive dual-tone colors high vis orange navy and high vis yellow navy. Along with colors we also offer design and printing/embroidering of our polo shirts which can include names, tags, numbers, other designs, etc. The polos are prepped and customized on order with the best quality prints.
Our range of sizes are xs, s, m, l, xl, 2xl, 3xl, 5xl and 7xl
What material are the polos/cuffs ?
The polo is made of 100% polyester, 150gsm fabric and the cuffs are made of an elastic material for comfort. The polos offer versatile design components that can help with comfort and safety while wearing them. The polos fabric is easy to wash, dirt-repellent, lightweight and quick to dry. This can make using the polo everyday very practical to use.
How do I know what my print will look and how soon will it ship?
Before we begin work we always provide a print mockup prior to commencing. Our highly trained designers will work with you through the revisions to ensure the print matches your specific requirements. The products usually ship on standard shipping times based on the availability of stock and type of print. We can also offer priority shipping and same-day printing service for surcharge fees.
Related News
Mon, Jul 11, 2022 4:28 AM