Kids Safety Vest Code Red V16

All workdepot products

- are available with custom prints

- are available with express delivery

Stock Availability

In Stock

Prints

screen print: 25+

embroidery: 10+

full colour print: 12+

black print: 12+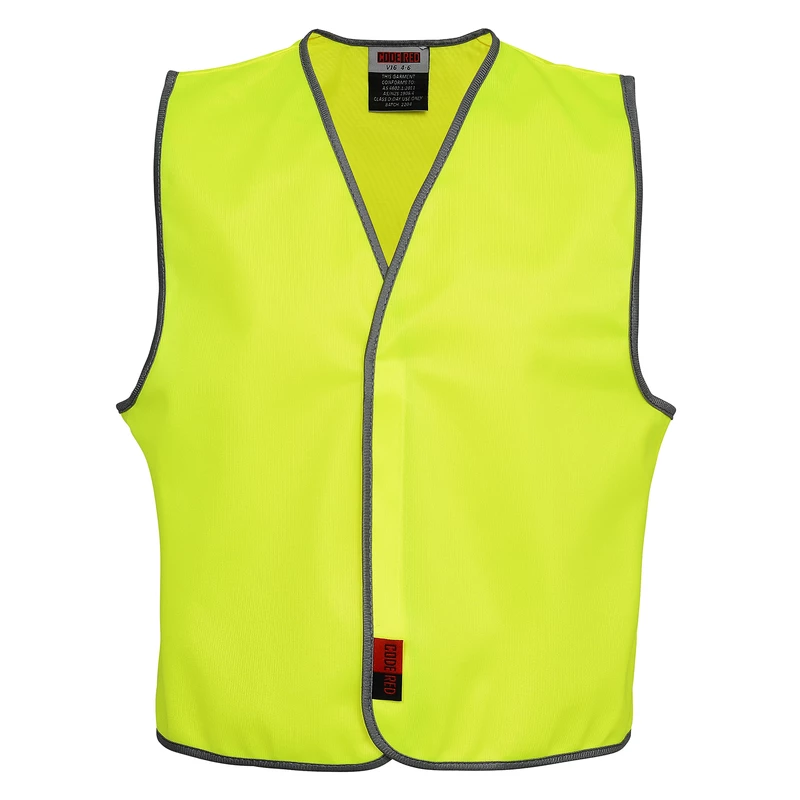 High Vis Yellow

High Vis Yellow

High Vis Orange

High Vis Orange
Kids safety vest Code Red V16 is a high visibility day vest that is primarily made to keep children visible and thereby protect them from hazards. The material is a soft and comfortable 100% polyester.
It's easy to slip on and secure using Velcro that it comes with, keeping the child protected at all times and is compliant with Australian standards. Please make sure that the size of the vest matches your child's body type before purchasing. The available sizes are for the age group as mentioned- 4 to 6, 8 to 10 and 12 to 14. We also offer custom printing and embroidery work where you can add the school name, contact details logo or any other design like your child's favourite cartoon characters on the front left, front right or back of the hiviz vest. as per your requirements. It can be worn over a T-shirt, jacket or any other outerwear at all times and can be removed with ease.
It finds application while the child is Learning to Walk, Biking, Skateboarding, Walking the dog, Garbage Picking, Farm Activities, playing in busy areas, school field trips, skiing on the mountain, playing in busy areas, crossing streets, walking to school, hiking etc.
A gift that can express your care and help your child stay safe as it's an Essential year-round safety gear for home and school.
PRODUCT FEATURES:
1. 100% Polyester tricot for durability
2. Lightweight, Soft and Breathable
3. Features durable Velcro closure on front
4. Contrast grey binding
5. Can be custom printed
6. Highly durable
7. Rush delivery and pickup option available
CLICK TO ADD LOGO OR PRINT TO ORDER
ADD PRINT
Garment print price details
What are the colours available?
It comes in fluorescent Yellow and Orange colours as this colour is meets Australian Standards for visibility
What sizes do you offer?
Our range of age-appropriate sizes is 4 to 6, 8 to 10 and 12 to 14
How do I know how my print will look?
We always provide you with a print mock-up prior to commencing the work. Our designer will work with you through the revisions to ensure the print matches your requirements
Is it durable and washable?
Made from warp knit 120gsm-100% polyester material, makes it easy to wear and less susceptible to wear and tear. Easily washable without much effort.
Can kids wear/remove it with ease?
It can be easily worn for long hours without any discomfort. It can be worn on any other garment without worrying about safety.