High Vis Security (Front and Back) Day Vest

Stock Availability

In Stock

Prints

screen print: 25+

embroidery: 10+

full colour print: 12+

black print: 12+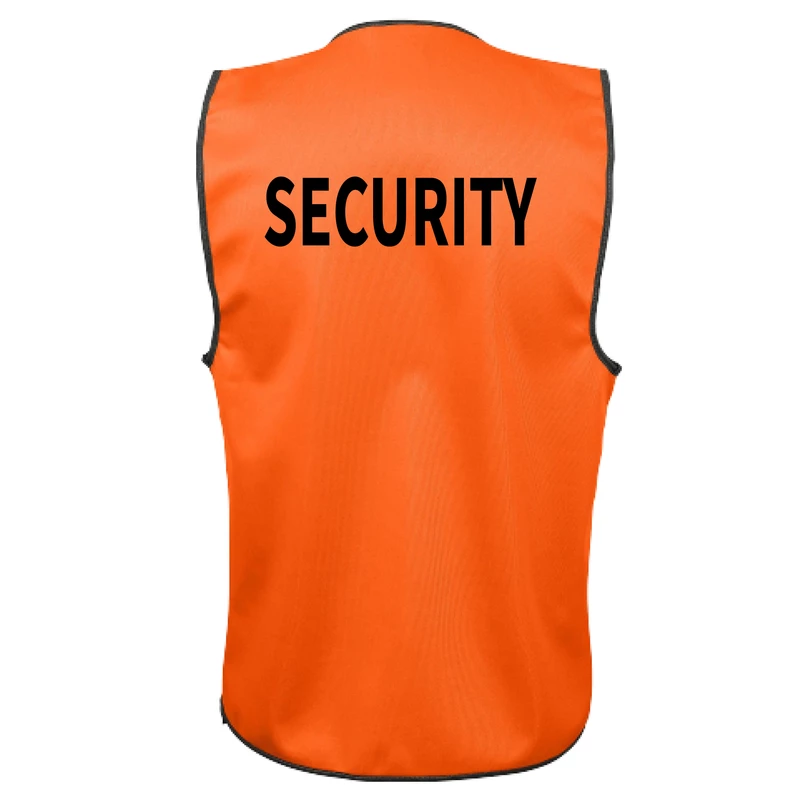 SECURITY

SECURITY

SECURITY

SECURITY
The SECURITY High Vis Vest which is available in 2 colours- High vis yellow and High vis orange come pre-printed with the word "SECURITY" on both the back and front for easy identification purposes. It can be further personalised by adding names or numbers. This vest can be worn over regular clothing and they are made with durable and lightweight polyester, in a wide range of sizes- S, M, L, XL, 2XL, 3XL, 4XL and 5XL.
1. 100% Polyester Tricot
2. Cool, breathable and lightweight
3. SECURITY print on front left chest and back
4. Add additional prints as required
5. No minimum quantity
6. Front print Security in Black ink at 100mm wide x 2cm tall
7. Back print Security in Black ink at 280mm wide x 5cm tall
The prints are highly visible against the vest and is large enough to be seen from a distance. The wearer can be assured of recognition and can carry out any work as required without announcing themselves in highly tense situations. Other colour options are also available on request.
Industry Applications: The vest can help security personnel operating in malls, construction sites, airports, private events, warehouses, etc where easy identification is needed for people to immediately identify and ask for help when needed.
If you require any customisation to match your company branding requirements, we can do that too and have them custom printed for the same price. We deliver the products straight to your door, through rush delivery in 1-2 days. Pick up option is also available from our outlet.
Buy our chief warden High Vis Day Vest: https://www.workdepot.com.au/code-red/printed-high-vis/chief-warden-white-day-vest
CLICK TO ADD ADDITIONAL PRINT OR LOGO
ADD PRINT
Garment print price details
Who can wear the Security vests?
Security staff working at malls, construction sites, airports, private events, warehouses, and other places where individuals need to quickly identify and ask for assistance can wear these vests.
Can I get these in a Non High Vis colour?
Yes, you can. However, it is recommended to get these in hi vis colours as they will enhance the visibility of the wearer and not just serve for identification purposes.