Pink Hi Vis Day and Night Vest

All workdepot products

- are available with custom prints

- are available with express delivery

Stock Availability

In Stock

Prints

screen print: 25+

embroidery: 10+

full colour print: 12+

black print: 12+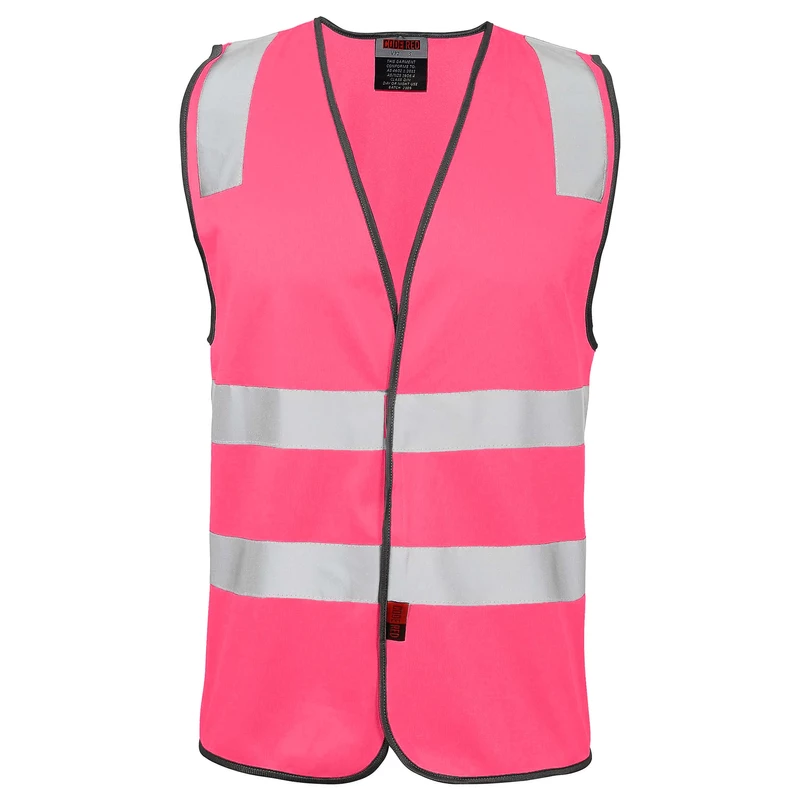 Blank

Blank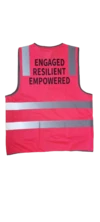 Printed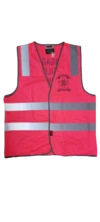 Printed
Pink High Visibility Vest with reflective tape can be used in various industries. This Hi Vis Vest is made of 100% Polyester which makes it longer-lasting and safe for extended use. These HIViz Vests offer high visibility with 5 cm-wide reflective strips covering the waist, chest, shoulders, and back which provide visibility, while you are working under daylight or low light conditions. Note this vest is not AS/NZS compliant. For compliant vest choose the high vis Orange or Yellow only.
• Soft and light weight
• Comes in a wide range of sizes
• Improved noticeability
• Can be used in all seasons
• Comes with Velcro closure on front
• Contrast grey binding
Just upload your customization requirement and when you submit your order, we will print it according to your specifications and deliver it straight to your door, through rush delivery in 1-2 days. A pick-up option is also available from our outlet.
Industrial Applications: It serves purposes in construction sites, security personnel, traffic control, surveying, landscaping, paving roads, railroad, sanitation jobs, volunteering, etc. It is hazardous to work late at night or early morning, but these HiViz Vests help easily notice the workers and prevent any accidents from happening.
Also available is CR-V32 High Visibility Vest in additional colors.
CLICK TO ADD LOGO OR PRINT TO ORDER
ADD PRINT
Garment print price details
Is Pink an approved hi visibility colour?
The only 2 colours which are approved for use in the Australian Standard are a specific Yellow and Orange, and also an Orange-Red under some circumstances. Therefore this pink vest can not be considered as one which meets the standard for day or day/night visibility. The pink safety vest stands out and can be customer printed but if WH&S requirements specify a vest that is compliant with AS 4602.1:2011 then this vest is not compatible. We do offer standard Yellow and Orange vests which can be found in related products.
This vest has reflective tape which in itself is compliant but as the background fluorescent fabric is not the required Yellow or Orange, it cannot be used in night or low light conditions. We recommend consulting your WH&S Officer if there is any specific questions regarding the suitability of this vest in your workplace.
Who and when can the vest be worn?
This unisex vest can be worn by all professions requiring to wear a safety vest that does not require wearing a high-viz compliant color, particularly in supply chains, plumbing, security, etc. These vests perform well under both day and night conditions without any trouble. The vest comes fully compliant with safety standards
What material are the vests made of and how will the print look?
Our vests are made of rich and distinctive pink-colored, long-lasting, and comfortable 100% polyester/warp knit 120gsm fabric. We always provide you with a print mockup prior to beginning the work. We also make sure to meet all requirements preset and ensure a quality print is standard.
What Colours and Sizes do we offer ?
We have a special distinctive color hi vis Pink. This offers all the safety required while the user does not require high vis-compliant colors. Can be used in a warehouse and is perfect for people who need to wear a special color like a manager.
Our range of sizes are xs, s, m, l, xl, 2xl, 3xl which are also highly customizable and can be printed on-demand as requested by us.
Who can use pink hi vis?
The best uses are for staff who need to stand out, be noticed and be identified. The pink hi vis vest stands out amongst the other normal yellow and orange, and is best for line managers or supervisors. This vest can be further customised by adding a print such as 'MANAGER', on the front and or on the back.
Related News
Thu, Jul 14, 2022 3:01 AM
Wed, Jul 13, 2022 2:55 AM