Fire Warden Vest

Stock Availability

In Stock

Prints

screen print: 25+

embroidery: 10+

full colour print: 12+

black print: 12+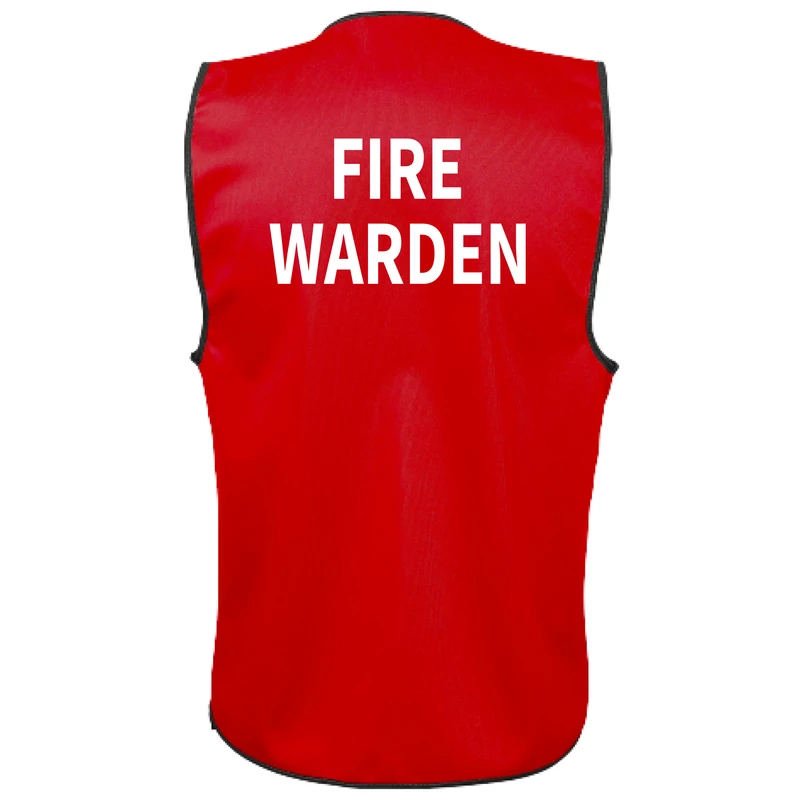 FIRE WARDEN

FIRE WARDEN
The Fire Warden Vest is available in a bright Red colour which makes it easy to quickly identify fire wardens during fire alarm activations or other fire emergencies. Every worksite must be equipped with the appropriate fire warden supplies, such as vests, in order to be ready for any crashes that could happen. A fire warden acts as the team leader for their building or floor, making sure that everyone in the area is well-versed in emergency and fire procedures and kept informed of the situation's status and seriousness. This vest can be worn over regular clothing and features adjustable Velcro fastening. It comes pre-printed with the words "FIRE WARDEN" in bold on both the front and back, making it suitable for emergency wardens, floor wardens, mobility wardens, etc. The red shade of the vest stands out against other fluorescent colours and is made with durable and lightweight polyester; comes in a variety of sizes including S, M, L, XL, 2XL, 3XL, and 5XL.
• 100% Polyester Tricot
• Ability to add additional prints as needed
• Compliant with Australian Standard AS2700
• Cool, breathable, and lightweight
• FIRE WARDEN print on front left chest and back
• High Vis Day vest
• No minimum order quantity
Industry Applications: When a fire breaks out, those who need assistance can turn to the Fire Warden, who is supposed to have received the necessary training to deal with circumstances just like this one. The Fire Warden can assist the elderly and those with limited mobility in making their way towards safety by alerting them of the evacuation protocols. Compared to other fluoro colors, the red colour of the vests makes them stand out in a crowd. Thus, We provide these in the approved color as well, in accordance with Australian Standards. The vest can also be used during fire drills to practice building evacuation procedures. It is completely durable and safe to use.
Note: You may get the words 'Fire Warden' printed on other coloured vests as well, but they won't be compliant with the norms set by Aussie standards.
Customization is available to match your company's branding needs, simply upload your requirements and we will print and deliver the vests straight to your door through rush delivery in 1-2 days. Pick-up option is also available at our outlet.
CLICK TO ADD ADDITIONAL PRINT OR LOGO
ADD PRINT
Garment print price details
Is Red an approved Hi Vis colour?
As per the Australian Standard, only two colours: a specified fluoro Yellow and Orange, as well as an Orange-Red in select cases, are classified as Hi-vis. As a result, this red vest does not exceed the requirements for daytime or day/night visibility. The red safety vest is compliant to the Australian Standard 2700. Usually purchased along with the Area and Chief Warden vests.
Who can wear this vest and when?
All occupations require a safety vest that does not necessitate wearing a high-viz compatible colour, such as supply chains, plumbing, security, and so on. This vest, thus, can be worn by members of the ECO. The vest complies with the Australian Standard for Fire Warden vests.
Can I get another coloured vest but with the same text?
You may select and customise any of our high vis safety vests, but they won't be compliant with the set Australian Standard for the Fire Warden Vest.
Which sizes can I get?
We supply the vests in sizes ranging from S to 5XL.