High Vis Day Singlet

All workdepot products

- are available with custom prints

- are available with express delivery

Stock Availability

In Stock

Prints

screen print: 25+

embroidery: 10+

full colour print: 12+

black print: 12+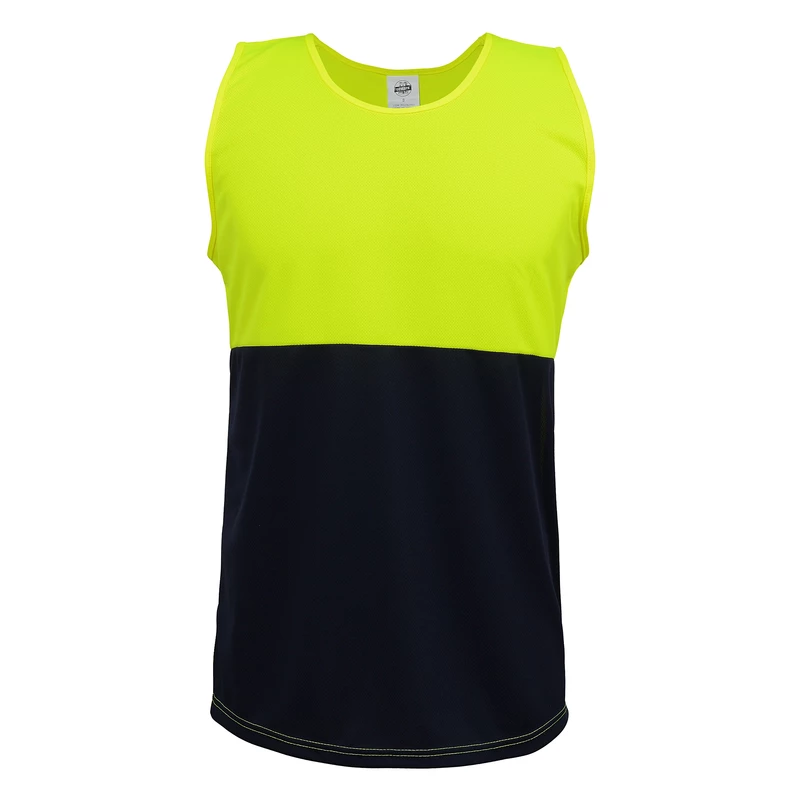 Blank

Blank
The high-vis day-only singlet is safety wear designed to provide comfort to the wearer. It comes with a dual-tone colour Yellow Navy. The main advantage of this singlet is that it is sleeveless and stretchable too. It feels good on the skin and has a soft touch to it. This singlet can be worn on the torso to provide the user freedom to move around easily and is unquestionably very safe to wear due to the high-vis colour used. Comes in wide range of sizes from XS-3XL.
It can only be worn during the day for the maximum safety of the wearer and is easily customizable. We offer on-demand custom printing and embroidery on all our safety wear, which includes names, numbers, tags, logos, etc.
• Fully compliant with Australian standards
• 100% polyester tricot
• Dual-tone colour and customizable
• Light and durable fabric
Just upload your customization requirement and when you submit your order, we will print it according to your specifications and deliver it straight to your door, through rush delivery in 1-2 days. Pick up option is also available from our outlet.
Industrial Applications: Wearing safety clothing helps provide confidence to workers in roadwork, lumberjacks, construction sites, sports training and many other areas. This singlet comes with a Navy colour lower chest design that can help hide dirt and keep you looking clean. The 100% polyester fabric can be used to keep moisture and dirt away. The material is breathable, elastic, loose to fit and easy to wash or dry.
CLICK TO ADD LOGO OR PRINT TO ORDER
ADD PRINT
Garment print price details
What colours and sizes do we offer ?
We have a special distinctive dual-tone high vis Yellow Navy color. This is a high viz colors that comes with a dark attribute which keeps the wearer safe and helps keep them looking clean.
Our range of sizes are xs, s, m, l, xl, 2xl and 3xl they can also be custom designed with both printing and embroidery options for a personalized look.
Are these non-reflective and who can wear them?
Yes, this singlet comes with a dual tone color and no reflective tape. The singlet is a sleeveless clothing that can be worn under regular safety clothing or can be worn by itself. These clothings can be worn by lumberjacks, mason workers, plumbers, etc which involves physical labor involved and keeps the user comfortable/safe.
How do I know how my print will look and how fast can it be shipped?
The singlets can be printed or embroidered as requested, we also provide a print mockup of the final design so you can decide the final outlook of the clothing. Our inhouse team of designers help you with revisions on the design until a final draft is decided to print which meets all your requirements. The shipping involved standard and priority methods which can be done for a small surcharge and also on stock avialability.