High Vis Short Sleeve Day T-Shirt

All workdepot products

- are available with custom prints

- are available with express delivery

Stock Availability

In Stock

Prints

screen print: 25+

embroidery: 10+

full colour print: 12+

black print: 12+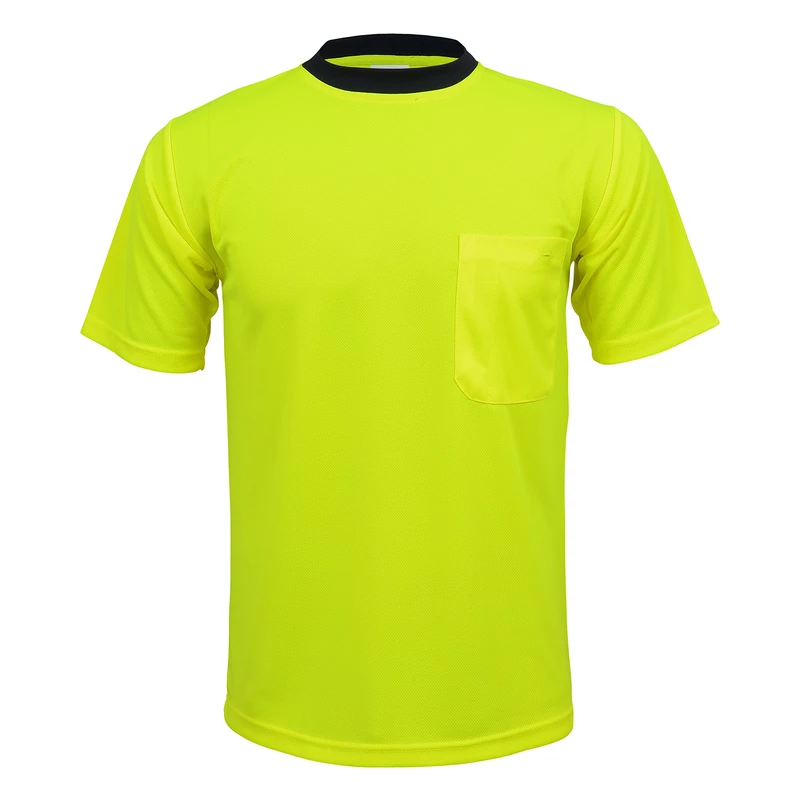 High Vis Yellow

High Vis Yellow
The high vis short sleeve day T-shirt comes in High Vis Yellow colour. It is a casual safety wear that can be worn with comfort and provides protection to the wearer. This t-shirt comes with a handy pocket on the left chest area that can help with carrying small accessories, cards, wallets, etc for easy access. The rounded collar is a black-coloured soft fabric that can also help keep moisture away. It is a short-sleeve design that can be worn over any other everyday clothing as well.
• 100% Polyester tricot fabric
• Comes with a front side pocket
• Safety compliant and moisture absorbing collar
• Light weight and long-lasting
• Delivery in 1-2 days
• Pickup option is also available from our warehouse
The clothing can be custom printed or embroidered for your specific need and can include names, logos or any other designs that are needed in the workplace to easily identify your workforce.
Industrial Applications: These can be worn by people operating in warehouses, forklifts, luggage handling, offices and as casual safety wear for the workplace. The t-shirt is good to wear if the user needs to stay dry and comfortable at all times. The polyester fabric keeps the t-shirt from tearing or having holes in them during work and is also good for quick turnaround washes for everyday use. The t-shirts will hold up against regular washes and do not shrink due to the high-density 150gsm fabric used.
CLICK TO ADD LOGO OR PRINT TO ORDER
ADD PRINT
Garment print price details
What colours and sizes do we offer ?
The T-shirt comes in a high-vis compliant Yellow Navy color. The t-shirt can be custom designed with names, logos, numbers, etc on the existing color for a personalized look.
Our range of sizes are xs, s, m, l, xl, 2xl and 3xl, which fits a wide spectrum of people with ease and comfort
Are there any pockets and what material is it made of?
Yes, there is a handy pocket on the front left chest area that helps keep access to carriables. The T-shirt is made of 100% polyester and 150gsm fabric that is light, soft, washable, breathable, etc. This fabric helps keeps the wearer comfortable during long hours of work when needed and also protects them with high visibility.
How do I know how my print will look and how fast can it be shipped?
The T-shirts will be provided with print mock-ups that can help determine the look and placement of designs for a neat look. Our team will also help you revise designs if and when needed. The designers will work with you to determine your requirements until satisfied. We offer warehouse pickup, same-day shipping and also priority shipping for a surcharge. Reach us for more information.